Gün geçtikçe önem kazanan ve piyasadaki oyuncu sayısı artan bir sektör vulnerability scanner sektörü. Tenable bu sektördeki eski ve güçlü oyunculardan birisi.
Bu haftaki yazımda bu eski ve güçlü oyuncunun yeni ürünlerinden birisi olan security center ürününe değinmek istedim. Bu ürün normal zafiyet tarama araçlarından biraz farklı, scan engine security center içerisinde yer almıyor, nessus scan engine ile entegre olarak çalışıyor.
Security center tek başına bir tarama yapmazken farklı networklerdeki tarama motorlarından, pasif tarama motorlarından, log korelasyon ürünlerinden aldığı datayı tek bir merkezde toplamayı, bu merkezden yönetmeyi sağlıyor. Kısaca ağınızdaki güvenlik zafiyeti, log v.b. dataları tek bir merkezde toplamayı hedefleyenler için tasarlanmış bir ürün.
Öncelikle ürünü network de nasıl konumlandırabileceğimize bakalım,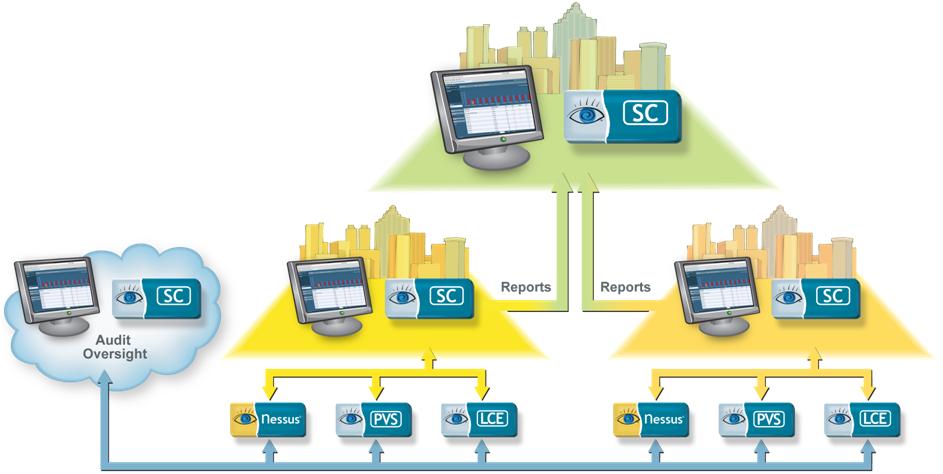 Yukarıdaki resimde de görmüş olduğunuz gibi Security center aşağıdaki ürünler ile entegre olabilmektedir.
Nessus : Zafiyet tarama motoru (Vulnerability Scanner)
PVS : Pasif zafiyet tarama (Passive Vulnerability Scanner)
LCE : Log Korelasyon Motoru (Log Correlation Engine)
Bu yapıyı örnek bir senaryo ile açıklayalım.
Örnek Senaryo :
Çok fazla şube ağı olan bir kurumum bilgi güvenliği ekibinde çalışıyorum (hava yolu şirketi, banka, telekomünikasyon şirketleri v.b.) çok fazla şehir ve ülke de şirkete ait sistemler var ve bu sistemlerin güvenliğini sağlamak zorundayım.
Bu durumda her lokasyon için zafiyet tarama yazılımı, SIEM ürünleri v.b. alabilir, bu ürünler üzerinden sistemlerinizin güvenlik durumunu takip edebilirsiniz. Bu bir çözüm ancak bir rapor almak istediğimde her lokasyona tek tek erişim sağlamak, buradaki bilgileri alıp raporlama v.b. işlemleri tek tek yapmak oldukça zor, zahmetli ve iş yükü oluşturan bir durumdur. Bu gibi seneryolar için security center ürününü kullanmak oldukça avantajlı olacaktır.
İzmir ve ankaradaki lokasyonlarınıza nessus, PVS ve LCE ürünlerini konumlandırabilir, bu ürünleri istanbul daki security center ürününüz ile entegre edebilir ve kuruma ait tüm ağı istanbul daki security center ürününden yönetebilirsiniz.
Security Center ürünün temel özellikleri nelerdir?
1- Next Gen Vulnerability Management
2- Malware Detection
3- Compliance And Patch Monitoring
4- Network Behavior Analysis
5- Log Collection
6- Forensic Analysis
7- Incident Response
8- Mobile, Virtual and Cloud Coverage
Bu haftaki yazımda sizlere tenable şirketine ait Security center ürünün temel özelliklerinden ve nasıl konumlandırılabileceğinden bahsetmek istedim. Ürün ile ilgili daha detaylı bilgi almak isterseniz tenable.com adresini ziyaret edebilir veya kayhan.kayihan(at)endersys.com adresi üzerinden benimle iletişime geçebilirsiniz.